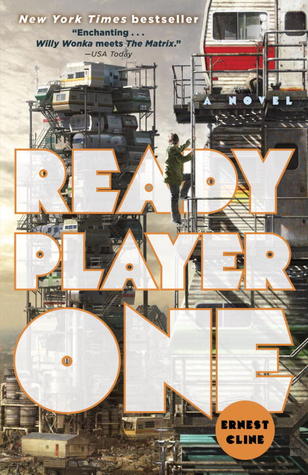 Ready Player One by Ernest Cline
This book follows Wade and his life in the dystopian world of 2044 as he attempts to complete the challenge set out by James Halliday the creator of the OASIS the virtual world every person now lives, works and plays in. If Wade wins he will be rich beyond his wildest dreams.
I read this book as part of the August read-a-long for the little book club on goodreads
https://www.goodreads.com/group/show/136419-little-book-club
This book has to be one of my favourite books of 2014, it appealed to every single geeky bone in my body, as someone who has a vast collection of old game stations this book really appealed to me.
The world building in this book is so unbelievably vivid, not only the real world but also the development of the OASIS was fantastic. This book made me feel like I was 10 years old again playing on my game station all over again, the OASIS sections of this book just drag you in and you just can't stop reading.
I also loved the character development in this book, not only do you get the development of the characters as people but also the development of their Avatars.
If you loved video games as a child/teenager you would devour this book.
Miss Quinny Rating
(5 / 5)